6 players per team
3 women / 3 men play each game
Rosters up to 10
Head-to-head match format
Games are to 7, matches last about 1 hour
2 matches per night, against 2 different teams
Bocce is a game brought over from Italy and while both the French (Petanque) and the English (Lawn Bowling) have their own versions we kinda like Bocce the best. You may have played it in your backyard or at the beach - but nothing quite compares to Underdog Bocce.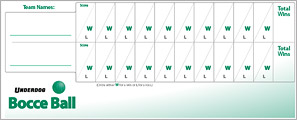 The flow... 4 teammates (2 men/2 women) line up on one end of the court (for each team), each throw 1 ball. Your other two teammates stand at the opposite end of the court and act as "spotters". When that "inning/frame" is finished, 2 players walk to the opposite end to meet the 2 spotters who are now throwers. The 2 who stay are now spotters.
First team to 7 wins that round, with several rounds in each of 2 matches, as time allows. Laid back, social format!
Bocce is one of the sports that has both our Spirit and Prize systems. Click the links to find out how to win prizes without being the best Bocce players in the league!